I can hear the snow crunching under my feet. I breathe out and white mist forms before my face. I smile and my heart jumps in the air. Finally, it's winter again. For a moment I feel like a child wanting to make snow angels in the shallow snow – lie on my back and vigorously move my arms up and down and my legs from side to side. Honestly, when was the last time I made one?
But then the cold arctic wind hits me. Hard and freezing cold. I'm talking about -20°C (-4°F) cold. So yes, really cold. Soon I can't feel my nose anymore. Cheeks? Nope. And my ears? Well, I should have put a woolen hat on... By the time I'm back home they might have fallen off. Maybe not really likely but the thought alone makes me panic a little so I rub them with my hands. Thank God I'm wearing mittens. Then I look down. My favorite ankle boots and bare legs. Well, they're not really bare. I wear thick(ish) tights. However, this isn't quite what one could call cold weather clothing. Women! What was I thinking?
Oh winter. I think we do have a stormy love-hate relationship.
But hey, let's talk about today's recipe...cause there's so much more than coldness and maybe it's 40°C in your corner of the world (hello Oz!). I'm not going to share a recipe for a warming soup or comforting stew. No, today we're having a simple, quick-to-make salad. And I don't post this recipe because I'm on a post-Christmas diet spree. I post it just because it's delicious.
This is a variation of a salad we often make at a get-together with friends (thanks to my friend M.). The "original" version calls for blue cheese and walnuts. I, however, used feta and pecans instead. If you want to have a more filling salad, you can pimp it up with red quinoa. I should also tell you that after I took these shots I remembered that I still had a pomegranate sitting on my countertop. The pom seeds were really lovely sprinkled on top!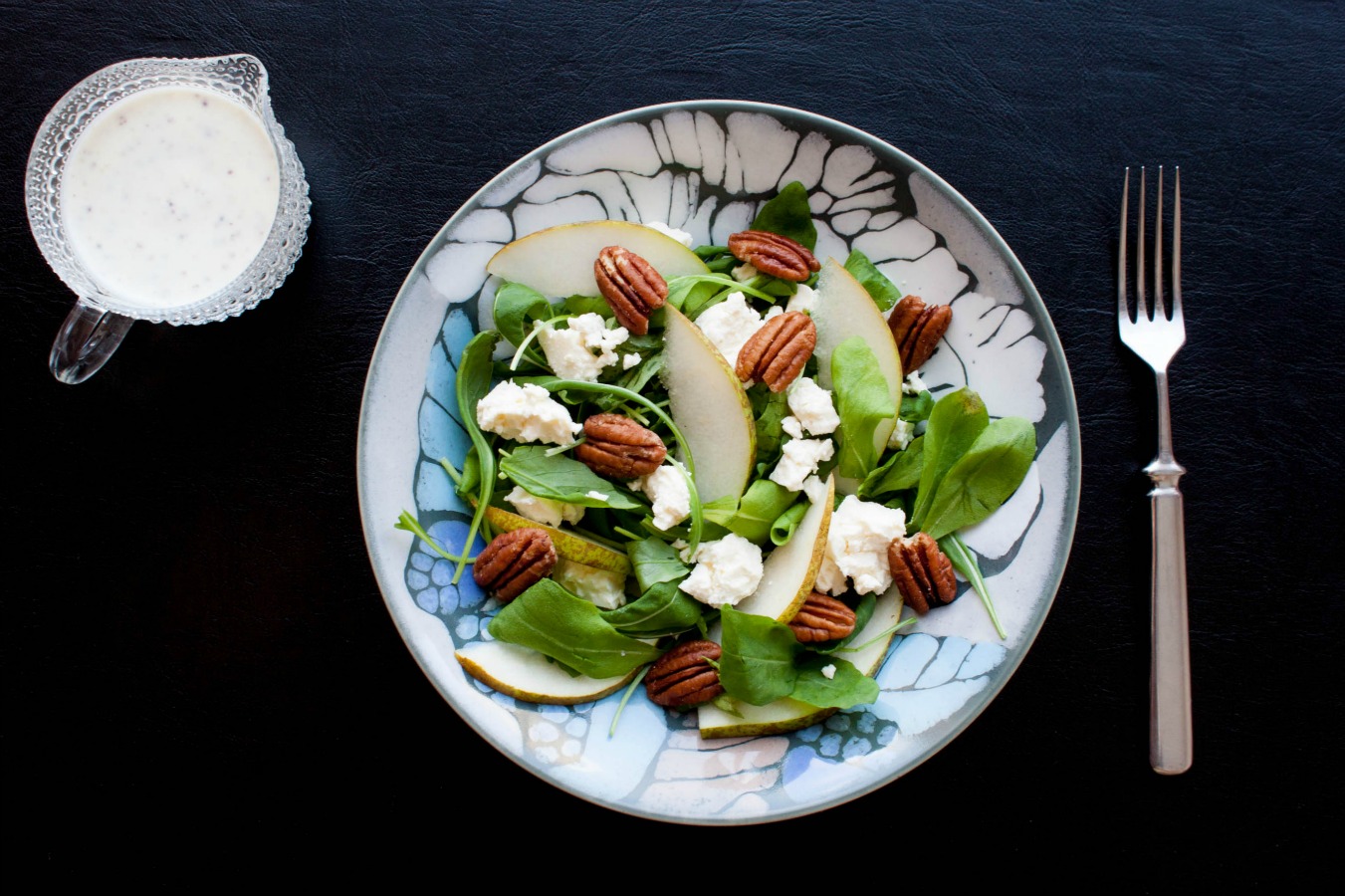 Arugula Salad with Pears, Feta & Pecans
serves 2
You'll end with more dressing than you need but it'll keep in the fridge for a couple of days.

2 large handfuls of arugula, washed & dried
2 pears, thinly sliced
100 g (3.5 oz) feta, crumbled
handful of pecans
for the dressing
3 tbsp full fat plain yogurt
½ tbsp whole grain mustard
½ tbsp white balsamic vinegar
a drizzle of honey
salt & freshly ground pepper, to season

For the dressing, combine yogurt, mustard, vinegar, and honey. Season with salt and pepper. Set aside.
In a large bowl, toss together arugula, pears, and feta. At this point you can either mix in the dressing or, like I do, serve it separately. Sprinkle the salad with pecans to make it look even prettier.
>>>•••••••••<<<
Let's get connected!