I didn't actually plan this to happen. Maybe you think "but she already posted a cookie recipe a few weeks ago!". Well, I can't blame you. This is probably considered "bad food blogging" to some standards, as a nice mix of different kinds of recipes is seen as being the ideal. However, as I'm not really organized when it comes to blogging at the moment (Will there be a post next week? What will it be about? Guys, I have no idea.), you're going to see what's going on in my kitchen anyway, blog or not. As it's December and holiday season, it's mostly sweet things, such as cookies. Okay, and pomegranate seeds in my morning yogurt but that's another story.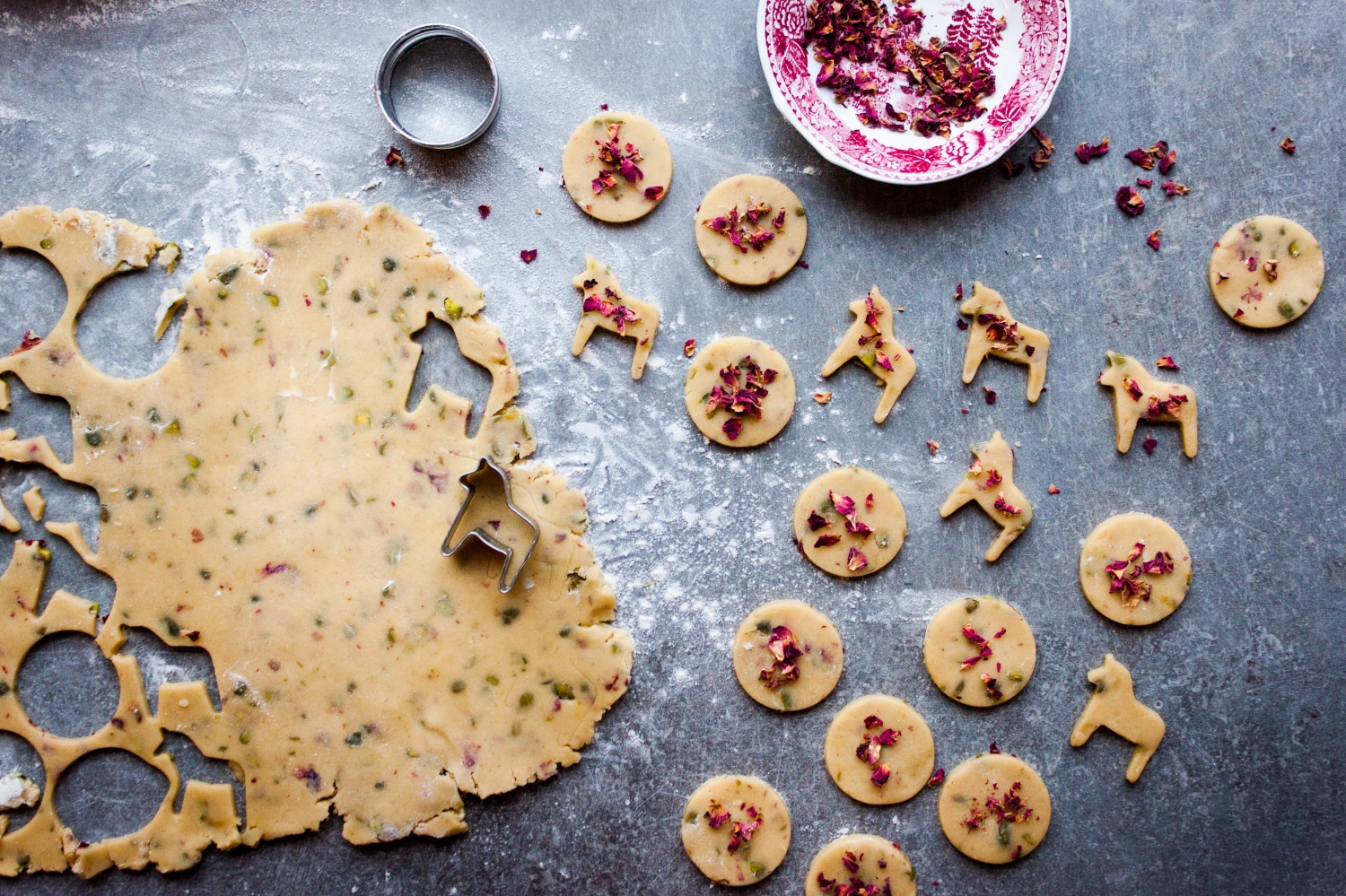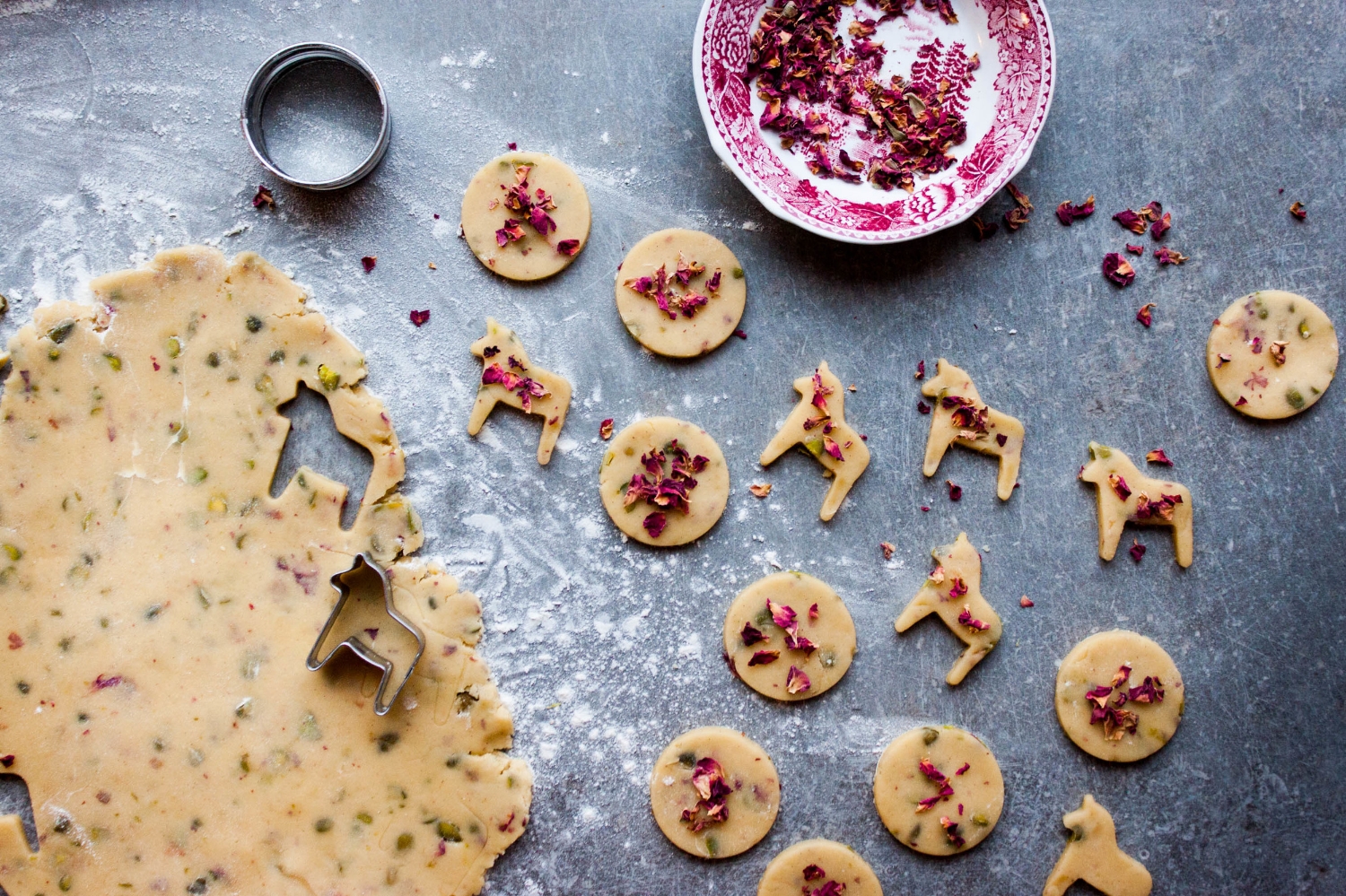 At 9pm last week, I suddenly got the urge to bake a batch of rose shortbread. You know when inspiration hits and there's just no way you could resist running into your kitchen? That happens every now and then, or at least it does happen to me. I was inspired by Heidi Swanson of 101 Cookbooks and Ashley of Gather & Feast who both blogged about rose shortbread a while ago. As I was making the dough, the idea of adding pistachios crossed my mind (probably cause I'm a sucker for Aran Goyoaga's Pistachio Sandies; a must-bake). First, I planned to make only round cookies, but that tiny dalahäst cookie cutter wanted to play along as well so I let him. He's just too cute, right?
I still wasn't completely sure whether I would blog about these beauties or not, but after getting rave reviews from a bunch of wonderful women at my most favorite yarn store, I knew I had no choice. It would be madness to keep you in the dark.
These are lovely for the holiday season but they would also be wonderful to serve at a wedding or a baby shower. Please note that the scent, strength, and quality of rosewater varies depending on which brand you use. If in doubt, start by adding only two thirds of the amount of rose water the recipe calls for, taste, and add more if necessary. The flavor should be present but not overwhelming. For these cookies, I used Steenbergs organic rose water.
Hope you're all having a wonderful and not too stressful pre-Christmas week!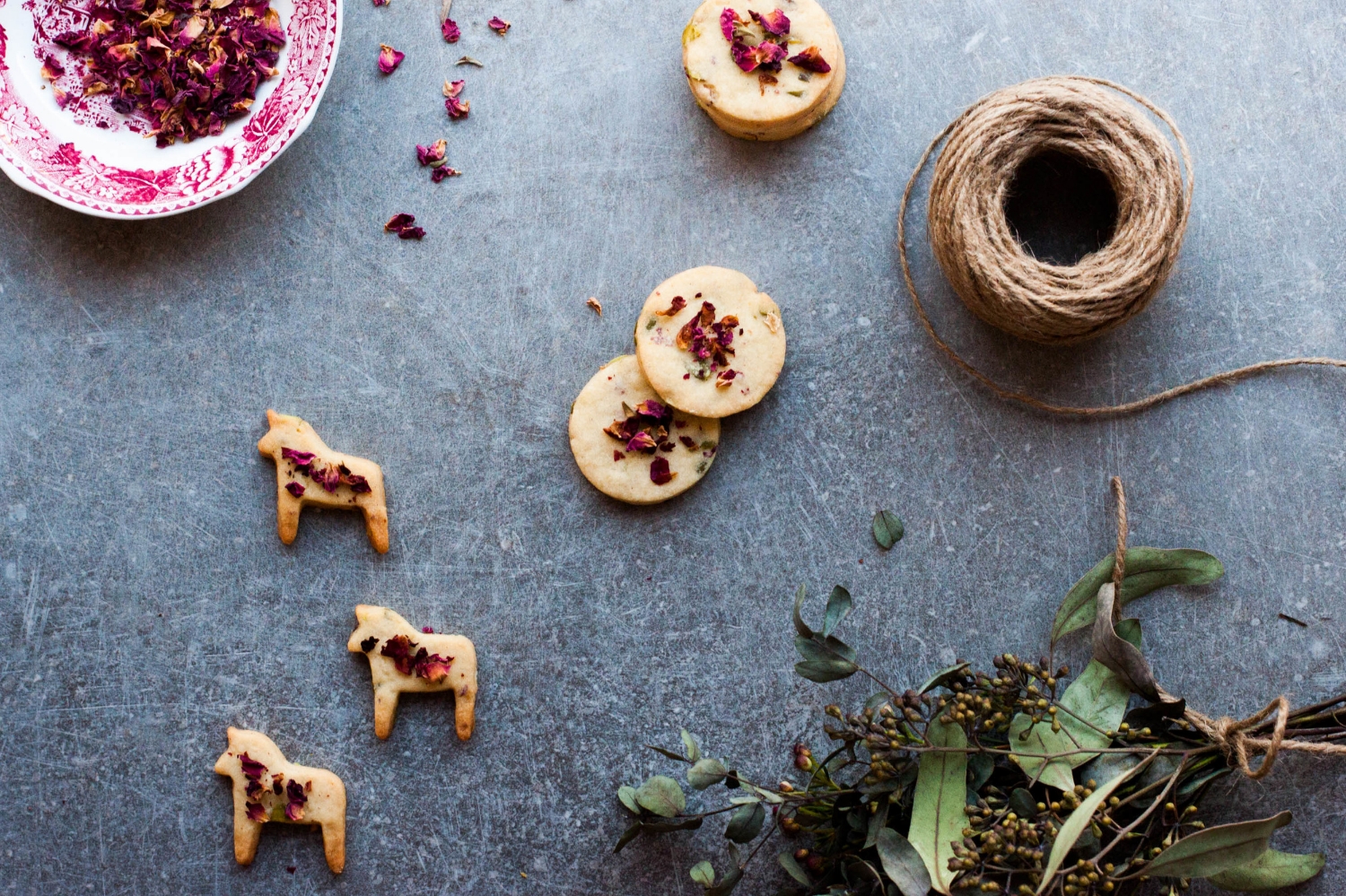 Rose Pistachio Shortbread
makes 3 to 4 sheets, depending on the size of your cookies
300 g (5 ½ dl; 2 ⅓ cups) all-purpose flour
¼ tsp fine sea salt
200 g (1 ¾ sticks) unsalted butter, at room temperature
100 g (1 dl + 1 tbsp; ½ cup) granulated sugar
1 egg (European size M; U.S. size L)
1 tsp vanilla paste or vanilla extract
1 tbsp rose water
1 tbsp dried rose petals + more for sprinkling
45 g (¼ cup) pistachios, roughly chopped

In a medium-sized bowl, combine flour and salt. Set aside.
In a bowl of a stand mixer, cream the butter and sugar until light and fluffy. Add the egg and mix until combined. Scrape down the bowl if necessary. Add the vanilla and rose water and mix. Add flour and mix until just combined. Finally, add the rose petals and pistachios. The dough will feel quite sticky, but resist the temptation to add more flour, as this would result in hard shortbread. Shape the dough into a disk and wrap in plastic. Refrigerate for at least 2 hours or overnight.
Preheat the oven to 180°C (350°F). Line a few baking sheets with parchment paper. Set aside.
Lightly dust a clean work surface with flour. Roll out the dough to about 0,5 cm / 0.2" thick. Cut out the shortbread using a cookie cutter of your choice. Place onto the prepared baking sheets. Should the dough get too warm, put it back to the fridge for a while, as it's easiest to work with a well chilled dough. Sprinkle with rose petals.
Bake on the middle rack for 10 to 15 minutes or until they start to get golden brown around the edges. Should you bake shortbread of different sizes at the same time, be sure to take out the smaller ones earlier. Remove from the oven. Let cool on the sheet for 5 minutes before transferring to a wire rack. Let cool completely before storing in a tin box or a jar.